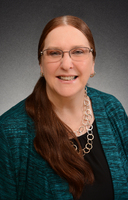 Dara Dominique
Realtor Realtor
Dara grew up in Eastern Connecticut and currently lives in Willington with her husband of 29 years. She has two children, Chad & Lauren. Real Estate had always been one of her interests and when it was time for a career move, she concentrated her efforts on becoming a Realtor. It was an omen that her Real Estate License number would be comprised of the year she graduated from high school, her birth date, and the year she met her husband…all in one little number: Ironic!
Although joining the Ferrigno-Storrs office in the spring of 2017, Dara is not new to the world of Real Estate – she's long been established as a Realtor since 2004. Through the years, Dara has defined her work with specific attention to each unique client, providing individual support and high-quality customer service from the very first meeting all the way through the final signature at the closing table.
Because of her close, attentive approach, Dara is particularly thrilled to be affiliated with the likeminded folks of Ferrigno Realtors – a family-owned, client-focused, warm-welcoming team of realtors, dedicated to treating their clients with respect and encouragement in their future.
Dara's expertise extends beyond real estate alone, with experience in design and drafting shaping her ability to help clients view each house with the potential for the home it could be. Working as an Interior Design Project Manager, and with over 20 years of experience in Architectural Drafting, she has a unique skillset that will surely complement your search for that feeling of home.
In her spare time she enjoys duckpin bowling, stamping, scrapbooking, being with family & friend and duckpin bowling. She is the CT Duckpin Hall of Fame Chair for the Bowlers' Association of Connecticut and has been a certified tournament director for the State of CT for 25 years. Dara is a past President of the EO Smith High School Drama Parents Association & a long time Secretary of a local bowling league at Lucky Strike Lanes.
Any season is the right season for real estate. Dara is ready and available to get working with you as soon as today, and is only a phone call away, 860.377.3349!
Real Estate License No. RES.0772278
NAR - National Association of Realtors
CAR - Connecticut Association of Realtors
Tri-County Board of Realtors
National Duckpin Bowling Congress
Bowlers' Association of Connecticut